vHelp Shopping
vHelp allows vulnerable people to securely reimburse volunteers for shopping
How vHelp Shopping works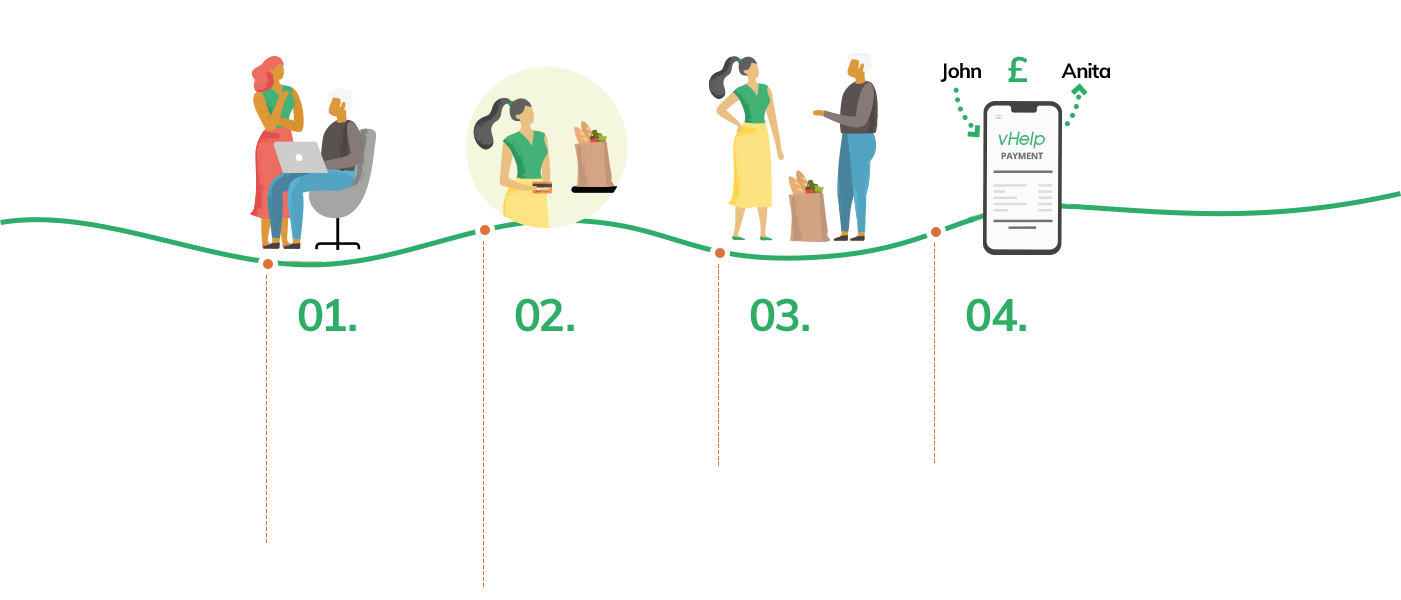 John registers his card details on vHelp, with the help of his family or a support worker
A one off activity
Anita is assigned to help John. She buys his shopping and pays for it
Anita scans the receipt using the vHelp app. She delivers the shopping to John
vHelp charges John's card the exact amount spent and reimburses Anita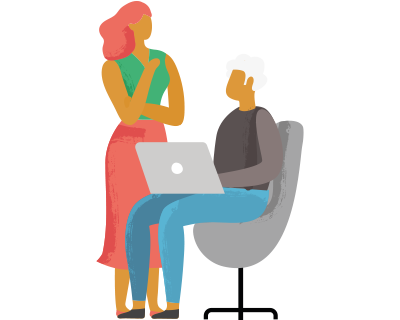 01.
John registers his card details on vHelp, with the help of his family or a support worker
- A one off activity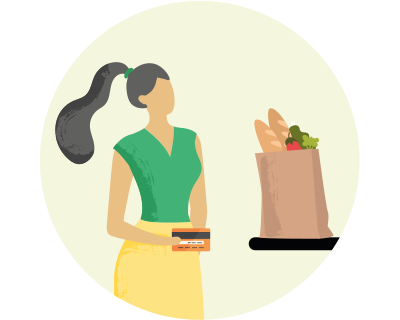 02.
Anita is assigned to help John. She buys his shopping and pays for it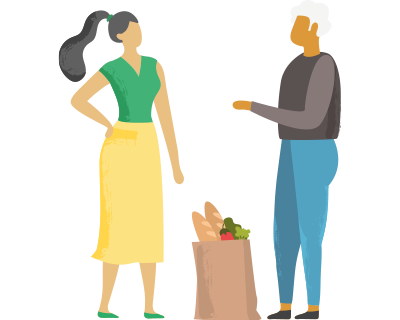 03.
Anita scans the receipt using the vHelp app. She delivers the shopping to John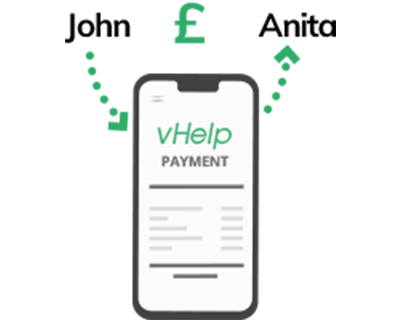 04.
vHelp charges John's card the exact amount spent and reimburses Anita
❮
❯
This way:

There is a full audit trail of the volunteer's activities and any money exchange

The volunteer is protected and guaranteed to get reimbursed by vHelp

The data of the person in need of help is protected

The person in need of help does not require any digital skills to use vHelp

No need for the vulnerable person to visit the bank or hand over cash on the doorstep
vHelp

Help safeguard vulnerable people whilst ensuring volunteers are getting reimbursed.
Provides insight and an audit trail of volunteers activities for the coordinators.
The Volunteer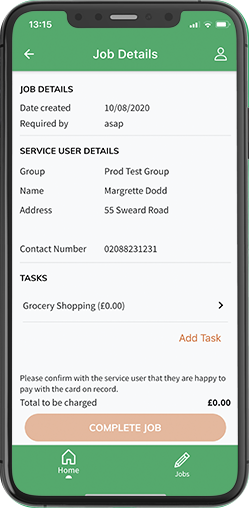 The volunteer can see the details of the job assigned to them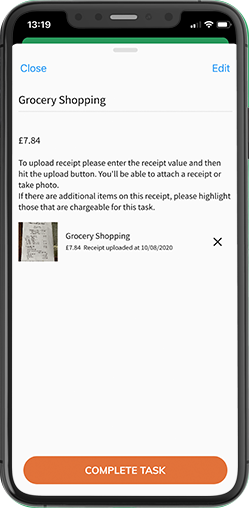 When the volunteer completes the job they upload the receipt, complete the job and get reimbursed
The Coordinator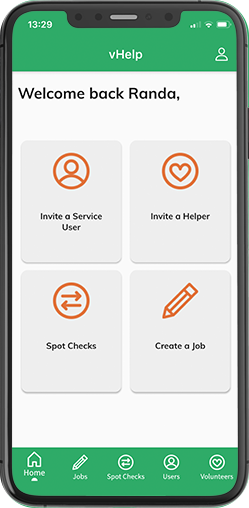 The coordinator of a group can invite other co-ordinators, volunteers or service users to join their group and use the app.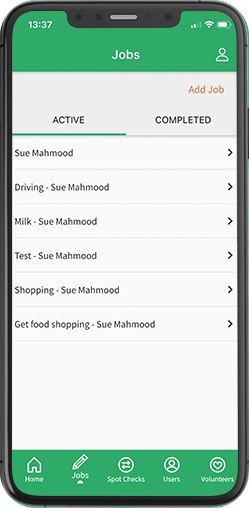 The co-ordinator can see all active and completed jobs and assign new jobs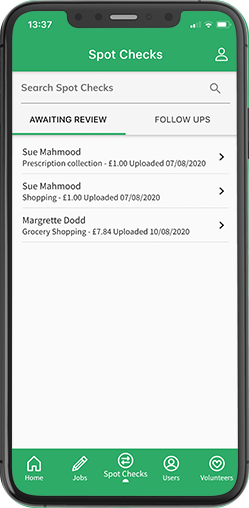 The co-ordinator can run spot checks on all completed jobs and flags any issues to be followed up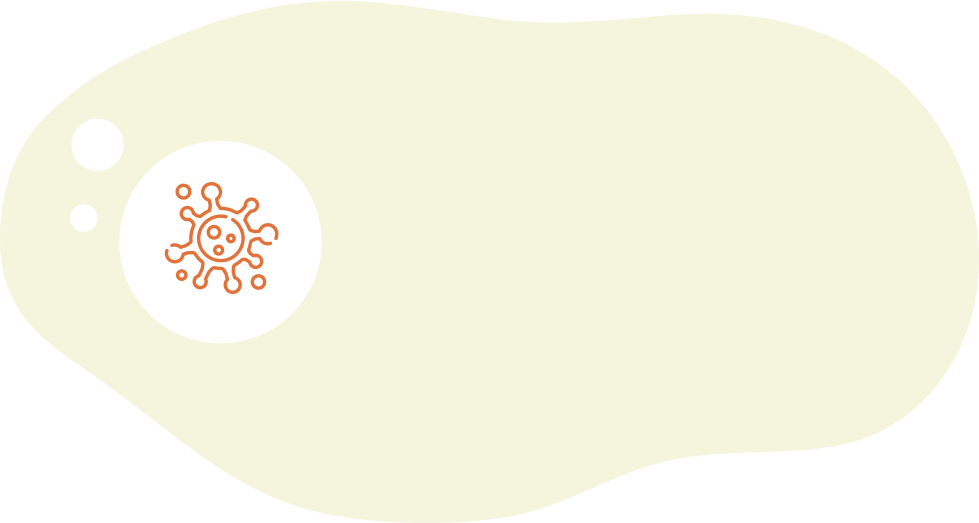 Our values of safeguarding led us to create vHelp to support the community during the Covid-19 crises.
Q&A
We are Randa Bennett & Patricia Salume, Founders of vHelp and VeeLoop. We are not alone, we've got the most amazing team who make our vision reality every day.
When Covid-19 lockdown started, we wanted to help out so we started to shop for our neighbours. We quickly found that taking payment was an awkward and impractical experience. Firstly you have the money exchange happening at the door then the hassle when you don't have the right change to give back. Let alone the risk of contamination with cash being one of the dirtiest objects to be exchanged. There is also the risk around safeguarding vulnerable people when dealing with cash.
With our payment knowledge and experience, we decided to give back to the community and build vHelp to solve those problems during lockdown and beyond.
Our original business VeeLoop is an award winning London based company enabling young people to shop online safely whilst keeping parents in the loop. Our core value is to enable children to participate in ecommerce with parental oversight as well as protect their personal data. VeeLoop is funded by an institutional investor; Worth Capital and angel investors.
vHelp and VeeLoop's home is the Westmont Enterprise Hub at the University of West London where we are the entrepreneur in residence (prior to Covid19 and hoping to go back there soon)
Currently we are piloting the service and able to offer it for free because we received a grant from Innovate UK (the UK's government funded innovation agency). We also negotiated transaction credit from our payment partner, Stripe to ensure this service is provided for free whilst people need it.
We are trying our best to keep the service for free for the community but we may need to start charging to cover our costs. Pricing will be per transaction and will not exceed £3 a transaction depending on the amount spent.
If you are managing a voluntary organisation or a volunteer group and would like to use vHelp, please contact us at hello@veeloop.com or 0207 117 2097.
Setup is straightforward and your group can be up and running within hours.
Unfortunately we don't manage volunteers ourselves so registration is by invite only through one of your local volunteering groups. If you are part of a volunteer group or an organisation that manages volunteers, please ask the coordinators to contact us at hello@veeloop.com or 0207 117 2097.
When you complete your first job with the vHelp app you will be asked to enter your bank account details. You will then be reimbursed directly into your bank account. Reimbursements can take up to 2 working days but it oftens happens quicker.
Absolutely. Data protection is very important to us and safeguarding data has been a big part of our company from the beginning. We will only use your data for the purpose of this project and not any marketing purposes. Please read our Privacy Policy for more information on how we manage your data.
If you have any questions or would like more information contact us at
hello@veeloop.com
A few amazing companies are helping us out
Partners

Ignition Law supported us by preparing the terms & conditions and privacy policy for this project

Privasee helps us protect our users' data and comply with the GDPR. They give us full visibility of all the data we hold, allowing us to monitor its use and prevent data breaches.
Our achievements
Awards and recognitions we have received